DevTech's Monitoring & Evaluation (M&E) specialists provide technical support to USAID and its implementing partners (IP) for the Nigeria Monitoring, Evaluation and learning (MEL) Activity. The activity goal is to transform USAID/Nigeria into a premier practitioner of program monitoring and evaluation (M&E) rooted in a learning and adaptive culture.
Under the guidance of the Senior M&E Specialists and the Chief of Party (COP), the specialists work with the MEL Activity's Contracting Officer's Representative (COR) and other USAID technical staff to develop methods and systems needed to meet the deliverables required for M&E tasks. They are responsible for reviewing evaluation scopes of work, managing evaluations, analyzing and interpreting the results of surveys, and gathering data and doing analyses for assessments, evaluations, baselines, data quality assessments, and other M&E data efforts. The specialists also provide key expertise in the design and analysis of results and for capacity-building related to the Mission's goal of furthering collaboration, learning, and adapting (CLA) internally and with its partners.
While traveling to Abuja in November, I sat down with each of our MEL Specialists to talk a little about themselves and their professional backgrounds, how they became involved in M&E, what a typical day in the life of a MEL Specialist looks like, and what constitutes the most challenging aspects of the job, as well as the most rewarding.
Rosemary Okafor – MEL Specialist for Peace, Democracy and Governance: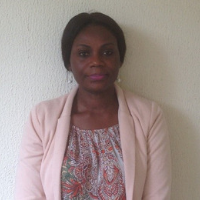 Prior to joining DevTech in 2017, Rosemary was a Senior M&E Officer strengthening democratic Institutions in Nigeria. She holds a master's degree in Public Administration from the University of Liverpool. When asked what a typical day looks like for her as a MEL Specialist for Peace, Democracy and Governance, she replied, "We do a lot of talking – collaborating, and sharing ideas." From my time in the MEL Nigeria office, I can certainly attest that this is true – from doing data quality assessments, reviewing reports and deliverables, and meeting with implementing partners and USAID, to reviewing activity MEL plans, providing feedback on IP's work plans, and even collaborating among fellow specialists – all specialists work in one room and constantly share ideas.
I asked Rosemary what first interested her in M&E work. She told me that while she was working as a program assistant at the National Democratic Institute on governance/elections projects, her supervisor noticed that she was always picking up details and metrics and took an interest in monitoring and evaluation. When the M&E position become vacant, the Chief of Party suggested she apply. From there, she became an M&E officer, then a senior officer, then a specialist. Rosemary explained that the most challenging part of her work is the constant pressure to improve. For example, data quality assessments (DQAs) used to just be a checklist and now it's comprised of lessons learned, next steps, putting context in reports, and demonstrating how your monitoring feeds into the data collected. Basically, it is all about providing better services and constantly improving what you do; she said that's also the best part, stating, "You're always learning from your colleagues who raise the bar and inspire each other to do more, and the fast-paced nature of the work keeps you motivated and striving for innovation."
Olufolake Akeju- Senior MEL Specialist for HIV/TB: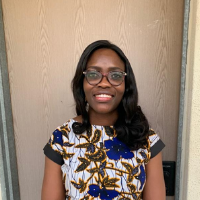 Folake qualified 14 years ago as a medical doctor and brings more than ten years of experience in public health covering HIV/AIDS/TB clinical practice and as well as development projects on HIV/AIDS/TB; malaria; maternal, new born and child health; water, sanitation and hygiene; health systems strengthening, and governance. Folake holds a master's degree in Public Health from the University of Sheffield, UK. After medical school, she did her year in hospital to get her license, then posted to another hospital for a year for mandatory national service. Folake originally planned on doing a masters of hospital administration but didn't find a program she liked, so she decided to go for her Master of Public Health instead. The MPH program she chose had a health management and leadership component, and, after coming back to Nigeria, she noticed a lot of people with MPHs were working for development NGOs. Folake decided she was done with hospital work, and since M&E jobs were plentiful, she started at FHI 360, which was her first exposure to M&E. When asked what one of the biggest challenges is regarding her work, she mentioned that expectations sometimes don't meet reality here – meeting the needs of the client and coordinating all the moving parts and all the different actors can make it challenging and unpredictable. Additionally, the industry is always changing and there's always more to know about M&E! So far, the MEL Activity has been her favorite place to work, citing the good working environment and the relationship she has with her colleagues.
Olufemi Gisanrin – MEL Specialist for Economic Growth and Environment: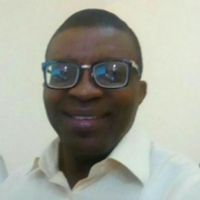 Femi is a Monitoring, Evaluation and Learning Specialist, backstopping the Office of Economic Growth and Environment for the MEL Program. Femi brings over two decades of experience in private sector and development projects. Over the last decade, Femi has worked in M&E for USAID Agricultural development projects including MARKETS, Bridge to MARKETS II, and MARKETS II. Femi grew up on a farm, and even was part of a nationwide campaign promoting milk consumption in Nigeria as a child. He earned a degree in food technology and development and went on to work for a private Dutch company as a production manager. Because of his private sector background, he then came to work for Chemonics on their program staff. For the USAID Nigeria Maximizing Agricultural Revenue and Key Enterprises in Targeted Sites (MARKETS) project he served as a middle belt regional manager, when the COP called him into his office and suggested he become the M&E person for the project. Femi then became the M&E Director for the MARKETS II project.
Throughout his entire career, product and data quality had always been a central focus, along with following a process. "Want good data? Need to follow a process." Femi didn't always see M&E as exactly what he wanted to do – he said that people often see M&E as policing people – but he was already accustomed to quality management and quality control. He said, "The production of cheese and yogurt is the same thing as M&E work at its core: quality and process control. If you check the control points, your product is likely to be right." According to Femi, "[One of the most rewarding aspects of the job is getting] a total picture about what's happening about the activity. You know what the people in the field are doing and what data is coming in, giving you really broad knowledge." One of the advantages of working at Devtech is the opportunity to do M&E for everything, and, he added, "That's the beauty of working in a MEL Activity as an M&E person, vs. a non-M&E project."
Mukhtar Ijaiya – MEL Specialist for Health, Population and Nutrition: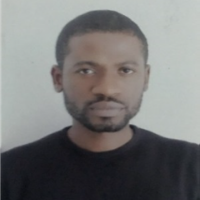 Mukhtar Ijaiya has more than five years' progressive experience in monitoring and evaluation, project performance management and measurements, and public health research. He specializes in Sexual and Reproductive Health, Family Planning and Maternal and Child Health, HIV/AIDS, Tuberculosis, and Orphans and Vulnerable Children program areas. Mukhtar joined DevTech from FHI360, Nigeria. He holds a Bachelor of Pharmacy degree from the Ahmadu Bello University, Zaria, and a Master of Science degree with distinction in Public Health from the Birmingham City University, UK. Like his colleague Folake, Mukhtar started out pursuing a career in Pharmacy but ended up in M&E. After obtaining his degree, Mukhtar did a year internship in pharmacy, followed by the one-year mandatory national service, then worked at a community pharmacy for six months. The internship turned out to be a very eye-opening experience, and he finished unsure if that was what he wanted to do. From there he made a pivot into public health. He had always been good with figures, metrics, and data and his first job after master's was a mixed role – doing half M&E and half programmatic work – and he immediately knew what part he enjoyed the most.
When asked what the most challenging part of his work as a MEL Specialist, he cited that there is no central national database and interfacing with a wide range of professionals in different program areas. But the most rewarding part, he added, "is when you see progress – being able to see when something is working, when you can see appreciable improvement in the lives and/or living conditions of the beneficiaries, and there is data to back it up." Since getting involved in M&E, Mukhtar has seen things from a different perspective, stating that it "makes you more thorough" always asking, "When, How and Where did you get that information from?"
Toyosi Adebambo – Acting Senior MEL Specialist for Systems: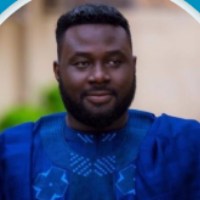 Unlike the majority of his colleagues, Toyosi had always hoped a career in M&E would be in his future, ever since earning a degree in mathematics and statistics from Federal Polytechnic in his home state of Osun. He has always loved statistics, working through calculations and problem solving, making a career in M&E seem appealing. After graduating University, Toyosi went on to work in a variety of fields (including owning his own restaurant!) prior to starting his M&E work with Society for Family Health Nigeria. When asked what the most exciting part of his job is, Toyosi cited the rise of "big data," database management, and operations, and getting to be a part of something growing and innovative. He said, "There is no other position like this in the Mission, where we combine technology with M&E, and I am thrilled to be part of something unique." When asked about the future of M&E in Nigeria, Toyosi responded, "M&E is everything – or MEL now, as the learning portion has been cut off for a very long time. Adding it on has given it a whole new meaning."
Samuel Nyam Gyang – Senior Monitoring, Evaluation, and Learning Specialist: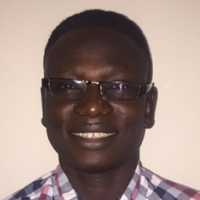 A long-time monitoring and evaluation and data management specialist, Sam has more than 11 years of hands-on experience in designing and executing projects and evaluations related to public health systems, education, water and sanitation, youth inclusion, and social development, with multiple projects focusing on remote areas in Nigeria. As the National Consultant for Health Management Information System (HMIS), Sam served as an Advisor to Partnership for Transforming Health Systems II (PATHS2-DFID) and conducted a process evaluation of the HMIS outputs. He also developed plans for conducting a Rapid Data Quality Review (RDQR) in all the supported states in Nigeria, using standard design and methodological frameworks. Prior to this role, Sam provided technical advice to the MAPS program as a Monitoring and Evaluation Advisor where he improved the data collection and M&E systems and reviewed the existing database to ensure the timely sharing of quality data to relevant agencies and State-level officials in Nigeria.
Sam is currently the Senior Monitoring, Evaluation and Learning Specialist for DevTech, where he leads the design and application of qualitative and quantitative approaches to USAID/Nigeria technical offices data gathering and analyses for assessments, evaluations, baselines, data quality assessments, and other M&E data gathering efforts. He also focuses on building capacity in Monitoring and Evaluation for USAID/Nigeria and its implementing partners while supporting USAID technical staff on PMP and MEL plan reviews and designing and conducting, among other duties.
Sam has said that the most rewarding aspect of his work is, "The whole aspect of designing and planning an activity, monitoring it, and seeing if it achieves its desired outcomes." And the most challenging? "Venturing into deeper dimensions of M&E and [working on] unfamiliar opportunities are awesome and challengingly interesting."
When asked to give us some insight for Sam as a person and how he feels about the field he is in, he replied, "I term myself as someone who loves challenges and believes all things are possible. I have the never-give-up spirit."
Sam holds a Master of Science in Health Policy, Planning, and Financing from the London School of Economics and Political Science, London School of Hygiene and Tropical Medicine (LSTHM) and a Master of Science, Pharmaceutical Technology (MSc. Pharm.), University of Jos, Nigeria.