Batma Estebesova, the head of the non-governmental organization (NGO) Secretariat of the Budget Advocacy Coalition (SOTSIUM), a group that brings together more than 50 NGOs in the Kyrgyz Republic, is acutely aware of the impact of a non-transparent and inefficient public procurement system:
"During the COVID-19 pandemic, we heard about companies that received contracts for millions of dollars, procurement scandals, and about how taxpayers' money is lost. We also discovered that more than 70 billion Kyrgyz Soms [828 thousand dollars] are circulating in the sphere of public procurement."
Public procurement in the Kyrgyz Republic accounts for more than 10 percent of GDP. Given the large volume of government funds and bureaucracy dedicated to this sector, procurement is vulnerable to irregularities, fraud, and corruption. These liabilities have a negative impact on the development of the country's social and economic infrastructure, the provision of public services, and the confidence of citizens and business representatives in the government. Thus, the monitoring of public procurement by civil society organizations (CSOs) is necessary for both curbing corruption as well as providing an avenue for citizens to express their opinions and preferences about government-provided goods and services.
Kyrgyzstani CSOs have already had some success in working together to hold the Government accountable in the area of public procurement. In late 2021, following a CSO roundtable organized by the DevTech-implemented USAID Fiscal Accountability and Sustainable Trade (FAST) project, a group of CSOs decided to send a letter to the Office of the President, Parliament, the Chairman of the Cabinet of Ministers, the Ministry of Economy and Finance, and the Ministry of Justice explaining their objections to planned amendments to the public procurement law. The public association, Partner Group Precedent, a non-governmental organization, was chosen by the CSOs to draft the letter. The CSOs at the workshop—84 in total—organized a WhatsApp group to coordinate contributions to the letter and to reach a final agreement before sending it to government institutions. An official copy of the letter, dated October 5, 2021, can be found here: http://sotsium.kg/wp-content/uploads/obrashhenie-ogo-prezidentu-kr-zhaparovu-s.-n.-koalicziya.pdf.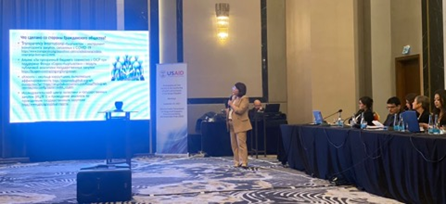 Within a few days, Kyrgyz Republic media outlets picked up the story about the CSOs' objections to the public procurement law amendments.1 As a result of public opinion, on October 20, 2021, Parliament rejected the amendments to the Public Procurement Law. The workshop that the FAST project organized with USAID funding was the impetus for CSOs to organize and oppose harmful amendments to that law.
For Mr. Eraliev, a lawyer for the Precedent Partnerships Group, discussions like the one held during the CSO roundtable are exactly what is needed to improve public procurement:
"Bringing together civil society and experts in public procurement will increase not only the transparency of the system, but also improve the quality and efficiency of procurement. It should be the union of specialists, who will conduct a constructive and expert dialogue and make appropriate qualitative proposals to achieve a common goal."
Civic participation in the monitoring of public procurement allows for timely identification of possible corruption risks, identification of possible facts of abuse by procurement entities, and improvement of the public procurement system based on a constructive dialogue of stakeholders. Importantly, CSOs are not part of the public administration system, allowing them more independence in their actions, including identifying and exposing corrupt practices in public procurement. Thus, civil monitoring of public procurement is one of the most effective mechanisms to counteract corruption.
To further strengthen the impact of CSO-led monitoring of public procurement, the FAST team worked closely with a group of CSOs to formalize their efforts through the creation of a governing body. On June 14, 2022, USAID FAST in close collaboration with the Government of Kyrgyz Republic and participating CSOs, launched the Public Procurement Transparency and Accountability Forum (PPTAF) to provide CSO leaders with a welcoming space to easily engage in monitoring activities. The PPTAF is intended to serve as a platform where CSOs can regularly meet, share experiences, form joint positions, and monitor public procurements in order to improve transparency, accountability, and the management of public funds. The PPTAF is also intended to facilitate engaging procuring entities and Ministry of Finance representatives and to allow CSOs to share their concerns on specific procurements, and demand transparency.
Since the launch of PPTAF membership has grown to 55 members, with representation from the health, education, and professional development industries. Forum members meet on a quarterly basis and lead theme-specific workshops in collaboration with USAID FAST. In September 2022, FAST organized "TenderFest" jointly with the Open Contracting Partnership (OCP). Tenderfest was a two-day event attended by 50 government, civil society, and mass media representatives that allowed participants to work on identifying opportunities for collaboration in such areas as conducting joint investigations to identify corruption schemes in public procurement. According to participating journalist Mr. Davurov, "previously everyone fought against corruption schemes alone, now the civil society and mass media communities have a great opportunity to unite our efforts for more effective monitoring of public procurements." He further noted "in addition to building relationships, during Tenderfest we received useful feedback from our civil society counterparts on some of the monitoring tools we use for automatic detection of suspicious bids, which we will use to improve our tools."
USAID FAST will continue to support PPTAF throughout 2023 to ensure that members have all the tools they need to effectively engage in oversight activities. This will include delivering trainings focused on procurement issues in collaboration with the OCP to CSOs throughout the country.
Interested in learning more about USAID FAST? Read our USAID Fast Case Study.
---
МСАО форуму: Мамлекеттик сатып алуулар боюнча Кыргыз Республикасынын Өкмөтүн ачык болуусун талап кылуу
Кыргыз Республикасындагы 50дөн ашык бейөкмөт уюмдардын тобун бириктирип турган "Бюджеттин коргоо коалициясы" Катчылыгы (СОЦИУМ) КБнын жетекчиси Батма Эстебесова ачык эмес жана натыйжалуу эмес мамлекеттик сатып алуулар системасынын таасирин жакшы түшүнөт.
"COVID-19 пандемиясынын учурунда биз миллиондогон долларга келишимдерди түзгөн компаниялар, сатып алуулар боюнча чыр-чатактар жөнүндө жана салык төлөөчүлөрдүн акчасы кантип жоголуп жатканы тууралуу уктук. Ошондой эле мамлекеттик сатып алуулар чөйрөсүндө 70 миллион сомдон ашык сом [828 миң доллар] айланып жатканын билдик».
Кыргыз Республикасында мамлекеттик сатып алуулар ИДПнын 10 пайыздан ашыгын түзөт. Бул секторго бөлүнгөн мамлекеттик каражаттардын чоң көлөмүн жана бюрократияны эске алганда, сатып алуулар мыйзам бузууларга, алдамчылыкка жана коррупцияга дуушар болот. Бул көрүнүштөр өлкөнүн социалдык-экономикалык инфраструктурасын өнүктүрүүгө, мамлекеттик кызматтарды көрсөтүүгө, жарандардын жана бизнес өкүлдөрүнүн бийликке болгон ишенимине терс таасирин тийгизет. Ошондуктан, жарандык коом уюмдары (ЖКУ) тарабынан мамлекеттик сатып алууларга мониторинг жүргүзүүсү коррупциянын алдын алуу үчүн да, ошондой эле жарандардын мамлекет тарабынан сунушталган товарлар жана кызмат көрсөтүүлөр боюнча өз ой-пикирин жана артыкчылыктарын билдирүүгө мүмкүнчүлүк түзүү үчүн зарыл.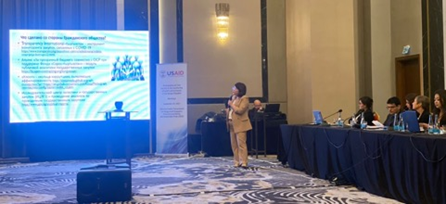 Кыргызстандын ЖКУлары мамлекеттик сатып алуулар чөйрөсүндө Өкмөттү ачык-айкын болуусу боюнча биргелешип иштөөдө бир топ ийгиликтерге жетишти
2021-жылдын аягында DevTech ишке ашырган USAID-дин Фискалдык отчёттуулук жана туруктуу соода (FAST) долбоору тарабынан уюштурулган ЖКУлардын тегерек столунун жыйынтыгында, ЖКУлардын тобу Президенттин, Жогорку Кеңештин Аппаратына, Министрлер Кабинетинин Төрагасына, Экономика жана Финансы министрликтерине, Юстиция министрлигине мамлекеттик сатып алуулар жөнүндөгү мыйзамга пландалган өзгөртүүлөргө каршы пикирин түшүндүрүү тууралуу кат жөнөтүүнү чечишти. Бейөкмөт уюм – "Прецедент" Өнөктөштөр тобу" коомдук бирикмеси бул каттын долбоорун иштеп чыгуу үчүн тандалып алынган. Бардыгы 84 болгон семинардагы ЖКУлар кат даярдоодо өз салымдарын кошуу жана аны мамлекеттик мекемелерге жөнөтүүдөн мурун өз ара акыркы версиясын макулдашууга жетишүү үчүн WhatsApp тобун уюштурушту. 2021-жылдын 5-октябрындагы каттын расмий көчүрмөсүн бул жерден тапса болот: http://sotsium.kg/wp-content/uploads/obrashhenie-ogo-prezidentu-kr-zhaparovu-s.-n.-koalicziya.pdf.
Бир нече күндүн ичинде Кыргыз Республикасынын жалпыга маалымдоо каражаттары мамлекеттик сатып алуулар жөнүндөгү мыйзамга өзгөртүүлөрдү киргизүүгө ЖКУлардын каршы пикири тууралуу материалды жазып чыгышты. Коомдук пикирдин жыйынтыгында 2021-жылдын 20-октябрында КР Жогорку Кеңеши «Мамлекеттик сатып алуулар жөнүндө» мыйзамга өзгөртүүлөрдү киргизүүнү четке какты. USAID-дин каржылоосу менен FAST долбоору тарабынан уюштурулган семинар ЖКУлардын бул мыйзамга пайда алып келбеген түзөтүүлөрүнө каршы чыгуусуна жана уюштурууга түрткү болду. 1
"Прецедент" Өнөктөштөр тобу" коомдук бирикмесинин юристи Эралиев мырза үчүн ЖКУ тарабынан тегерек столдо айтылган көйгөйлөр дал ушул мамлекеттик сатып алууларды жакшыртуу үчүн зарыл болгон нерселер:
"Мамлекеттик сатып алуулар боюнча жарандык коом менен эксперттердин башын бириктирүү бул системанын ачык-айкындуулугун гана эмес, сатып алуулардын сапатын жана натыйжалуулугун жогорулатат. Бул конструктивдүү жана эксперттик диалогду жүргүзүп, жалпы максатка жетүү үчүн тиешелүү сапаттуу сунуштарды киргизе турган адистердин
Мамлекеттик сатып алуулардын мониторингине жарандардын катышуусу мүмкүн болуучу коррупциялык тобокелдиктерди өз убагында аныктоого, сатып алуучу уюмдардын кыянаттык менен пайдалануусунун мүмкүн болгон фактыларын аныктоого, кызыкдар тараптардын конструктивдүү диалогунун негизинде мамлекеттик сатып алуулар системасын өркүндөтүүгө мүмкүндүк берет. Маанилүү нерсе, ЖКУлар мамлекеттик башкаруу системасынын бир бөлүгү эмес, бул аларга өз иш-аракеттеринде, анын ичинде мамлекеттик сатып алуулардагы коррупциялык аракеттерди аныктоодо жана ачыкка чыгарууда көбүрөөк көз карандысыздыкка мүмкүндүк берет. Ошондуктан, мамлекеттик сатып алууларга жарандык мониторинг жүргүзүү коррупцияга каршы аракеттенүүнүн эң натыйжалуу механизмдеринин бири болуп саналат.
Мамлекеттик сатып алуулар боюнча ЖКУлар жетектеген мониторингдин таасирин мындан ары да күчөтүү үчүн, FAST командасы башкаруучу органды түзүү аркылуу алардын аракеттерин расмийлештирүү үчүн ЖКУлардын тобу менен тыгыз иш алып барды. 2022-жылдын 14-июнунда USAID FAST Кыргыз Республикасынын Өкмөтү жана катышуучу ЖКУлар менен тыгыз кызматташтыкта ЖКУ лидерлерине мониторинг иш-чараларына оңой катышуу үчүн жагымдуу мейкиндик түзүү үчүн Мамлекеттик сатып алуулардын ачыктыгы жана отчеттуулугу форумун (МСАО) ишке киргизди. МСАО форуму ачыктыкты, отчеттуулукту жана мамлекеттик каражаттарды башкарууну жакшыртуу максатында ЖКУлар үзгүлтүксүз чогулуп, тажрыйба алмашып, биргелешкен позицияларды түзө турган жана мамлекеттик сатып алууларга мониторинг жүргүзө турган платформа катары кызмат кылууга багытталган. Ошондой эле МСАО форуму сатып алуучу уюмдарды жана Финансы министрлигинин өкүлдөрүн тартууга көмөктөшүүгө жана ЖКУларга конкреттүү сатып алуулар боюнча өздөрүнүн тынчсызданууларын бөлүшүүгө жана ачыктыкты талап кылууга мүмкүндүк берүү үчүн арналган.
МСАОФ иштеп баштагандан берип, бери саламаттыкты сактоо, билим берүү жана кесиптик өнүктүрүү тармактарынын өкүлдөрү менен 55 мүчөгө чейин өстү. Форумдун мүчөлөрү чейрек сайын жолугушат жана USAID FAST менен биргеликте тематикалык семинарларды өткөрүп жатышат. 2022-жылдын сентябрында FAST Ачык келишимдик өнөктөшүү (ОСР) менен биргеликте "ТендерФест" өткөрдү. Тендерфест 50дөй мамлекеттик, жарандык коом жана жалпыга маалымдоо каражаттарынын өкүлдөрү катышкан эки күндүк иш-чара болуп, катышуучуларга мамлекеттик сатып алуулардагы коррупциялык схемаларды аныктоо боюнча биргелешкен иликтөөлөрдү жүргүзүү сыяктуу тармактарда кызматташуу мүмкүнчүлүктөрүн аныктоого мүмкүндүк берди. Катышуучу журналист Давуров мырзанын айтымында, «мурда коррупциялык схемалар менен ар ким өз алдынча жалгыз күрөшүп келген болсо, азыр жарандык коом жана жалпыга маалымдоо каражаттарынын коомчулугу мамлекеттик сатып алууларга натыйжалуу мониторинг жүргүзүү үчүн биздин күчүбүздү бириктирүүгө чоң мүмкүнчүлүк алышты». Андан ары ал белгилегендей, " Tenderfest учурунда биз бири-бирибиз менен таанышып, өз ара мамилелерди куруудан тышкары да, жарандык коомдогу кесиптештерибизден шектүү сунуштарды автоматтык түрдө аныктоо үчүн колдонулган кээ бир мониторинг куралдары боюнча пайдалуу пикирлерди алдык, биз аларды өз куралдарыбызды жакшыртуу үчүн колдонобуз".
USAID FAST 2023-жылдын ичинде МСАОФго колдоо көрсөтүүнү улантат, бул форумдун мүчөлөрүнө көзөмөлдөө иш-чараларына натыйжалуу катышуу үчүн зарыл болгон бардык куралдарга ээ болушун камсыз кылат. Бул өлкөнүн бардык аймагындагы ЖКУларга Ачык келишимдик өнөктөшүү менен биргеликте сатып алуу маселелерине багытталган тренингдерди өткөрүүнү камтыйт.
USAID FAST жөнүндө көбүрөөк билгиңиз келеби? Биздин USAID Fast Case Study окуңуз.
---
Форум ППГЗ: Поддерживание Правительства Кыргызской Республики подотчетным в сфере государственных закупок
Батма Эстебесова, руководитель неправительственной организации (НПО) – Секретариата Коалиции «За бюджетную адвокацию» (СОЦИУМ), объединяющей более 50 НПО в Кыргызской Республике, хорошо понимает последствия непрозрачной и неэффективной системы государственных закупок:
"Во время пандемии COVID-19 мы слышали о компаниях, получивших контракты на миллионы долларов, о скандалах, связанных с закупками, и о том, как теряются деньги налогоплательщиков. Мы также узнали, что в сфере государственных закупок находится в обращении более 70 миллионов сомов (828 тысяч долларов АКШ) ".
Государственные закупки в Кыргызской Республике составляют более 10 процентов ВВП. Учитывая большой объем государственных средств и бюрократию, выделенных на этот сектор, закупки подвергаются нарушениям, мошенничеству и коррупции. Данные явления оказывают негативное влияние на развитие социальной и экономической инфраструктуры страны, предоставление государственных услуг и доверие граждан и представителей бизнеса к Правительству. Таким образом, мониторинг государственных закупок со стороны организаций гражданского общества (ОГО) необходим как для сдерживания коррупции, так и для предоставления гражданам возможности выразить свое мнение и предпочтения по поводу товаров и услуг, предоставляемых государством.
ОГО Кыргызстана уже добились определенных успехов в совместной работе по требованию Правительства быть открытым в сфере государственных закупок. В конце 2021 года после круглого стола ОГО, организованного в рамках проекта USAID "Фискальная подотчетность и устойчивая торговля" (FAST), реализуемого компанией DevTech, группа ОГО решила направить письмо в Аппарат Президента, Жогорку Кенеш, Председателю Кабинета министров, Министерства экономики и финансов и Министерство юстиции с разъяснением свои возражения против планируемых поправок к Закону КР «О государственных закупках». Неправительственная организация – общественное объединение "Партнерская группа "Прецедент", была выбрана как ОГО, ответственное за подготовку письма. ОГО, участвовавшие в семинаре – всего 84 представителей – организовали WhatsApp группу для координации участия в подготовке письма и достижения согласия по окончательной версии перед отправкой в государственные учреждения. Официальную копию письма от 5 октября 2021 года можно найти здесь: http://sotsium.kg/wp-content/uploads/obrashhenie-ogo-prezidentu-kr-zhaparovu-s.-n.-koalicziya.pdf.
В течение нескольких дней СМИ Кыргызской Республики подхватили историю о возражениях ОГО против поправок к Закону КР «О государственных закупках». В результате общественного мнения, 20 октября 2021 года Жогорку Кенеш КР отклонил внесение поправок к Закону КР «О государственных закупках». Семинар, организованный проектом FAST при финансовой поддержке USAID, послужил толчком к тому, что ОГО организовали и выступили против поправок к этому закону.1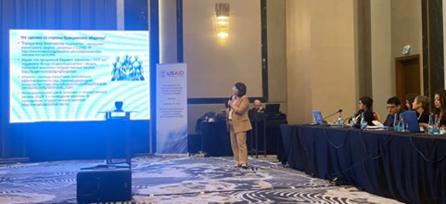 По мнению г-на Эралиева, юриста компании ОО "Партнерская группа "Прецедент", обсуждения, подобные тем, что были озвучены во время круглого стола ОГО, – это именно то, что необходимо для улучшения государственных закупок:
"Объединение гражданского общества и экспертов в области государственных закупок позволит не только повысить прозрачность системы, но и улучшить качество и эффективность закупок. Это должен быть союз специалистов, которые будут вести конструктивный и экспертный диалог и вносить соответствующие качественные предложения для достижения общей цели."
Гражданское участие в мониторинге государственных закупок позволяет своевременно выявлять возможные коррупционные риски, устанавливать возможные факты злоупотреблений со стороны закупающих организаций, совершенствовать систему государственных закупок на основе конструктивного диалога заинтересованных сторон. Важно отметить, что ОГО не являются частью системы государственного управления, что позволяет им быть более независимыми в своих действиях, в том числе в выявлении и разоблачении коррупционных практик в сфере государственных закупок. Таким образом, гражданский мониторинг государственных закупок является одним из наиболее эффективных механизмов противодействия коррупции.
Для дальнейшего усиления воздействия мониторинга государственных закупок под руководством ОГО, команда FAST тесно сотрудничала с группой ОГО с целью формализации их усилий путем создания руководящего органа. 14 июня 2022 года USAID FAST в тесном сотрудничестве с Правительством Кыргызской Республики и участвующими ОГО запустила Форум прозрачности и подотчетности государственных закупок (ФППГЗ), чтобы предоставить лидерам ОГО пространство для удобного участия в деятельности по мониторингу. ФППГЗ призван служить платформой, где ОГО могут регулярно встречаться, обмениваться опытом, формировать совместные позиции и проводить мониторинг государственных закупок с целью повышения прозрачности, подотчетности и управления государственными средствами. ФППГЗ также призван облегчить взаимодействие с закупающими организациями и представителями Министерства финансов КР, а также дать возможность ОГО поделиться своими проблемами по конкретным закупкам и потребовать прозрачности.
С момента создания ФППГЗ его состав увеличился до 55 членов, среди которых представлены отрасли здравоохранения, образования и профессионального развития. Члены Форума проводят ежеквартальные встречи и семинары по конкретным темам в сотрудничестве с USAID FAST. В сентябре 2022 года FAST организовала "ТендерФест" совместно с Партнерством открытых контрактов (OCP). «Тендерфест» – это двухдневное мероприятие с участием 50 представителей Правительства, гражданского общества и СМИ, которое позволило участникам поработать над определением возможностей для сотрудничества в таких областях, как проведение совместных расследований для выявления коррупционных схем в сфере государственных закупок. По словам журналиста Давурова, "раньше каждый боролся с коррупционными схемами в одиночку, а теперь у гражданского общества и СМИ есть прекрасная возможность объединить усилия для более эффективного мониторинга государственных закупок". Далее он отметил, что "помимо налаживания отношений, вовремя Тендерфеста мы получили полезные отзывы от наших коллег из гражданского общества о некоторых инструментах мониторинга, которые используются для автоматического выявления подозрительных заявок, и мы также будем использовать их для улучшения наших инструментов".
USAID FAST продолжит оказывать поддержку ФППГЗ в течение 2023 года, чтобы гарантировать, что члены организации имеют все необходимые инструменты для эффективного участия в надзорной деятельности. Это будет включать проведение тренингов по вопросам закупок в сотрудничестве с Партнерством открытых контрактов (OCP) для ОГО по всей стране.
Хотите узнать больше о программе USAID FAST? Ознакомьтесь USAID Fast Case Study.
---
1 https://kaktus.media/doc/447175_goszakypki_hotiat_perevesti_na_chastnye_elektronnye_ploshadki._eto_ochen_ploho.html
https://kloop.kg/blog/2021/09/28/konfidentsialnost-i-tendery-na-chastnyh-torgovyh-ploshhadkah-kak-goszakupki-kyrgyzstana-uhodyat-v-ten/
https://kloop.kg/blog/2021/10/04/nagruzka-na-byudzhet-i-neprozrachnost-obyasnyaem-kakie-riski-neset-v-sebe-perenos-goszakupok-na-chastnye-ploshhadki/
http://precedentinfo.kg/2021/09/28/predlagayut-novye-pravila-v-sisteme-gosudarstvennyh-zakupok/?fbclid=IwAR3n3wccLt9Yi43poGlSulBNwa7gXGH9Mi4qMzMZ97gv3J85VffYUSbThK8
http://sotsium.kg/nagruzka-na-byudzhet-i-neprozrachnost/#more-7373 NGO site, 50 CSOs, Secretariat for Coalition for Budget Advocacy