Naoual is a sign language teacher at the Lalla Asmae Foundation for the Deaf, a key partner of USAID Morocco's Inclusive Teacher Training Activity (MITTA), implemented by DevTech. She exemplifies strength and perseverance in the face of challenges, and this International Women's Day, we wanted to share her inspiring story.
Naoual was born as a hearing person. She was an engaged and high performing student. At age 14, due to the sudden onset of a medical condition, she lost some of her sense of hearing. This affliction caused by her illness was not immediately clear to Naoual or her family. Prior to her diagnosis, she remembers facing challenges when playing with her neighborhood friends whose calls or conversations she could not always hear. She also remembers being punished by her parents, who misunderstood her lack of responsiveness to be Naoual deliberately ignoring them.
The hearing loss gradually worsened over time until she experienced almost total hearing loss. After receiving assistive devices as a teenager, she was able to recover some of her hearing. However, Naoual still felt a struggle to fit in. "I didn't want my classmates to know that I had a hearing impairment. It had a serious impact on my mental health," she explained.
Concerned about her well-being and loss of interest in socializing, Naoual's family was eager to find ways to help her. It was her sister who first became aware of and introduced her to a local deaf or hard of hearing (DHH) association, which served as her introduction to the Moroccan DHH community and its unique sign language.
"I was very surprised to discover that many of them were confident and in tune with themselves," Naoual said, describing her first experiences with the group. Through her continued interactions with the members of the DHH association, she too would eventually display some of their qualities that most impressed her: "Eventually, I was able to accept my disability and live with it, and I no longer felt embarrassed about showing it. Deaf people were actually my real doctors and the cure for my illness."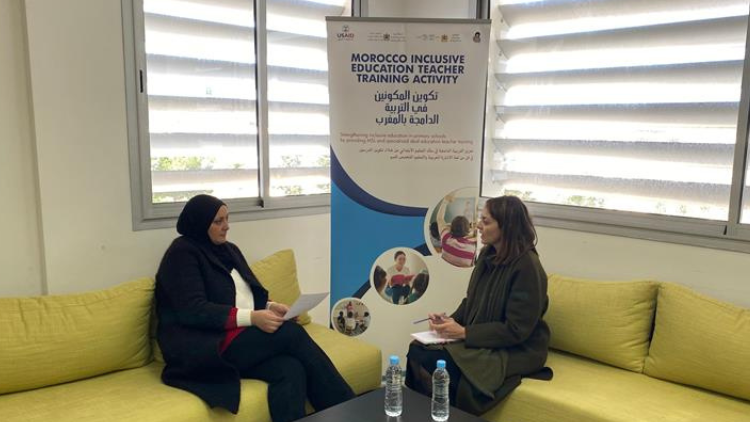 After completing her studies, Naoual began working as an accountant. In her spare time, she also acted as an interpreter for some of her acquaintances who are DHH, having learned Moroccan Sign Language through the National Federation of Deaf people and other local associations. Most importantly, her ability to assist her acquaintances in navigating health or administrative services was not simply a result of her knowledge of sign language, but also because of the significant levels of trust members of the DHH community placed in her.
Her interpretation skills caught the attention of the Lalla Asmae Foundation, a non-profit organization founded by HRH Princess Lalla Asmae to provide education for children who are DHH in Morocco. They contacted her to offer her a position as an interpreter supporting teachers, especially science teachers, as they conducted their lessons. She excelled in this role, interpreting and delivering information to facilitate learners' understandings. Every student in the cohort she supported successfully passed their high school exit examinations. Once more, the foundation took notice of Naoual's talent and offered her a position among their teaching staff.
Naoual takes great pride in her work. She is grateful to work for an organization that is considered the first in Morocco to provide people who are DHH with access to higher education. Many universities are now inviting Naoual to organize Moroccan Sign Language training workshops for hearing individuals. She is also teaching 250 Imams and other faith-based actors sign language. "This will enable deaf people to know more about their religion and this is a great source of pride for me," said Naoual. "Many deaf people I have met long to learn about their religion, Islam."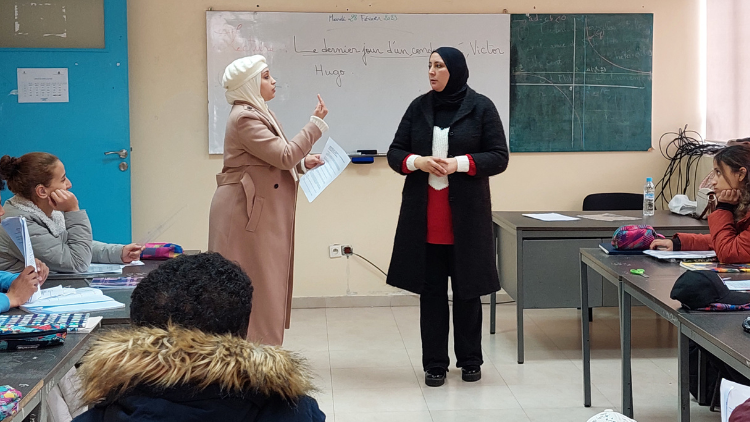 When asked whether she had any advice for young women and men who are DHH, Naoual had these words to share:
"My advice to all young deaf women on the occasion of International Women's Day is to fight hard to achieve their ambition. Being deaf should not stop them from dreaming and succeeding in life. When I first lost my hearing, I thought it would be an obstacle to achieving my ambitions. But today, sign language is being taught at many institutions and colleges and has been mainstreamed in many fields. With work and persistence, nothing is impossible."
"We must also not forget the essential role mothers play in strengthening the self-confidence of their deaf child or children—in most families, mothers are responsible for supporting any deaf children. They should all understand that hearing loss only affects one's ears and not one's brain. Being deaf or hard of hearing should not prevent children from leading a normal life."