Ismael's Sbihi accomplishments are impressive. The Marrakech native who has been deaf since birth holds both a bachelor's in mathematics and computer science and master's in bioinformatics in a country where many Deaf and Hard of Hearing children and youth lack access to basic education. [1] He has also beaten the odds by being employed—he currently works as a Project Assistant on the USAID-funded Morocco Inclusive Teacher Training Activity (MITTA). Indeed, people with disabilities in Morocco are five times more likely to be unemployed.[2] In addition to his academic and professional achievements, Ismael considers himself to be a bit of a ping pong wizard.
"I am lucky because I have a wonderful, supportive group of family and friends who have been by my side throughout my journey. I've also had some great teachers." While Ismael attributes his success in part to the nurturing environment he grew up in, he also emphasizes the importance of patience and perseverance. When he was younger, he turned to libraries and the Internet to help facilitate communication and learning—a practice he continues to turn to today. In college, Ismael took part in a research project in a computer science laboratory at Mohammed V University's Faculty of Science. As part of this project, he developed a mobile application that helped with the translation of written languages to sign languages to facilitate communication between people who are Deaf and people who are hearing. "In life, it's best to be proactive," asserts Ismael.
It is this way of thinking that led Ismael to work on the USAID MITTA project. This joint USAID-Government of Morocco project aims to improve the quality of and access to Deaf education across the country. To achieve this objective, MITTA is working to improve the performance and capacity of Moroccan higher education institutions and regional teacher training centers to provide quality teacher preparation and professional development in bilingual Deaf education. "I'm happy to have a job where I'm actively working to reduce barriers for the Deaf and Hard of Hearing community."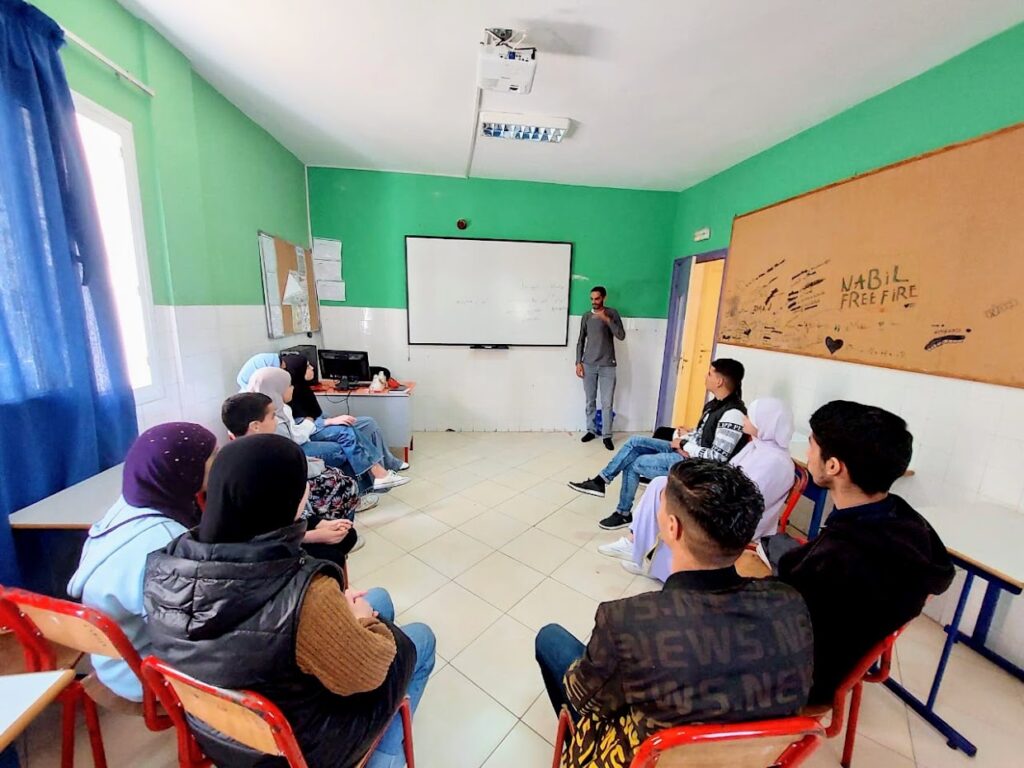 Ismael has been a great asset to the MITTA team particularly given his knowledge of Moroccan Sign Language (MSL) and acute awareness of the experience of living as a person who is Deaf in Morocco. Ismael has lent his expertise to content development for the MSL and bilingual deaf education courses being designed by MITTA and he has acted as a liaison and facilitated workshops with non-governmental organizations working with the Deaf and Hard of Hearing community. His participation in meetings with the Ministry of Education has also exposed high level officials to the types of accommodations that can be made to facilitate the inclusion and success of people who are Deaf or Hard of Hearing. Most importantly, as a high achieving young person who is Deaf and making an impact in his community, Ismael has served as a role model to the Deaf youth and their families that MITTA has engaged with as it works on developing inclusive education programming.
The Government of Morocco has taken a number of steps to improve the conditions of people living with disabilities, including, for example, the ratification of the UN Convention on the Rights of Persons with Disabilities in 2009; the passing of legislation on disability, such as the Law on the Rights of Persons with Disabilities (2004) and the Law on the Integration of Persons with Disabilities into the Labor Market (2011); the establishment of a national disability council; and the establishment of the National Program for Inclusive Education by the Ministry of National Education, Preschool, and Sports (2019). However, Ismael believes there is more work to be done to achieve equality between people who are Deaf and people who are hearing.
People who are Deaf or Hard of Hearing require additional accommodation to succeed both in schools and the workplace, including access to Sign Language interpreters. More broadly, sign language education needs to be made more widely available and standardized throughout the country. Though efforts were undertaken by the U.S. Peace Corps in the 1980s and later by the Moroccan Government to standardize MSL, regional differences in vocabulary exist, something Ismael became aware of upon interacting with Deaf and Hard of Hearing NGOs across Morocco as part of the MITTA project. To this day, MSL is not officially recognized by the Moroccan government as an official language.
In addition to education, Ismael asserts that the Moroccan government's efforts to strengthen inclusivity should address wider societal challenges that impede full social and economic integration. Technology has helped strengthen inclusivity for people who are Deaf or Hard of Hearing, including by facilitating communication. For example, when Ismael meets a hearing person who does not know sign language, he often communicates via the notepad on his cell phone. Additionally, social media has made it easier for Deaf and Hard of Hearing people from across Morocco to connect, providing a sense of community and support.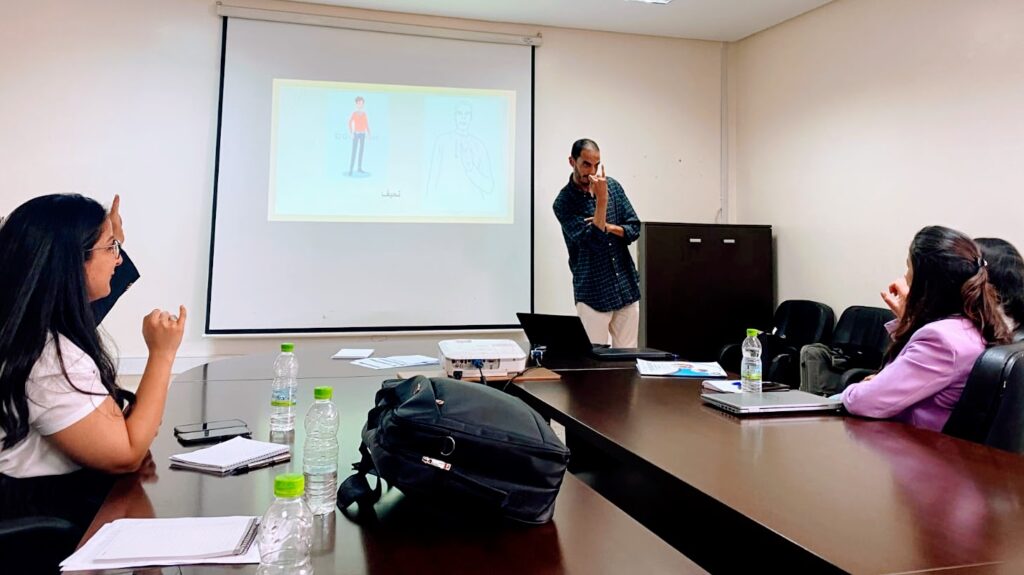 However, from Ismael's perspective, more needs to be done to improve inclusivity and to tackle the social stigma associated with deafness that is prevalent across Morocco. The country's Deaf community has a rich history and culture, including literary traditions and art, which the non-Deaf community—and even much of the Deaf community itself—is not aware of and should take the time to learn more about. Moreover, hearing people who speak sign language are few and far between. In terms of the broad population's knowledge of MSL, even a little would go a long way to make people who are Deaf and Hard of Hearing feel more connected and included. Beyond this, very few cultural activities or institutions are accessible to the Deaf community.
While there are still a number of obstacles facing the Deaf community in Morocco, Ismael is optimistic, "Since joining the MITTA team, I've seen firsthand the passion and dedication of the many people who are working to make Moroccan education and society more inclusive. It makes me feel hopeful."
---
[1] United Nations (2014). Committee on the Rights of Persons with Disabilities considers initial report of Morocco.
[2] Adghirini, K. (2022). Au Maroc, le taux de chômage des personnes en situation de handicap est cinq fois plus élevé que la moyenne nationale.